TY TO Nicky Shevlin For building this guide

First things, first
(click pictures to see larger images)
You need to create yourself.
Choose who you would like to be from the people that are already there,
or you can customise yourself. Then click PLAY.
When you first start off Jack teaches you how to clear grasses and how to harvest crops. I thought I would help you all with the rest of this work! After Jack leaves you to work on your homestead, you will notice you have several goals to complete. Try to complete the goals as quickly as possible. Pink/purple arrows will point you over to your goal pages (located on the far left of your game page going down vertically.) If you hover over the goal the title will appear, then click to see its entirety. Your goals will be something simple such as "Tend to homestead – harvest 3 tomatoes and feed 3 chickens. After finishing both of these you will be given a small reward and then given a set of new goals! You may have more than one goal on the go at the same time.
Adding items to your WISH list!
A wish list is a list so your neighbors and friends can view it in order to see which items you need to complete goals, buildings collection etc. It appears as if only SOME (some have to be gifted first) items can be placed into your wish list.

Step 1: On the bottom right corner, select the backpack icon also known as "MY STUFF."
Step 2: click on "inventory" on the bottom left.
Opening up your inventory should give you a page or multiple pages of things you've collected off feeds and/or Zynga has given you such as when completing a goal, you will be rewarded a sheep or a tree.
On the second page of my personal inventory, you will notice that there is a +page icon. If you click this tiny +page icon it will automatically add that particular item into your wish list. You can also add items that you need for your collections.

Completing goals early and their possible consequences.
| | |
| --- | --- |
| | Some goals require you to cut down grasses or trees. My advice to you would be don't cut down everything on your homestead. Instead of clearing the grasses and skulls from YOUR land, why not visit a neighbor and help them clear theirs! That way you're gaining some coins, food, XP, reputation points and energy but leaving your own grasses and trees for when you are given the goals to clear them. No harm will come to your neighbors items unless they click to accept the help. |
Crafting buildings
| | |
| --- | --- |
| | Once you reach a certain point in the game you'll be asked to craft together a cabin, school house, barn, inn, general store and even a chicken coop! This is where you need to rely on your neighbors to gift you items! Neighbors can send you free gifts such as paint, hand drills, nails and hammers! These items will go directly into your building-in-the-making and until it is finished they will also sit inside your inventory until needed. |
Special little letters

You will notice special letters that appear on your farm every once in awhile.
These are from your husband/wife to be if it wasn't already obvious. You will have to finish a few set of goals before your husband/wife joins you on your homestead.
While your husband/wife may share the same energy bar as your avatar, they do come in handy when you are trying to do things the fast way!
For instance, you can put your avatar to work chopping wood while you select your husband and have him feed the chickens!
Two things done at once can make your homestead chores much quicker. There are also tasks that are only for your partner.
Harvesting markers
| | |
| --- | --- |
| | You will notice yellow arrows pointing at your animals and sapling trees. These yellow arrows direct you to which animal is ready for feeding and which are not. |
Pesky little critters!
| | |
| --- | --- |
| | While clearing grasses, harvesting crops or chopping wood (If you decide to chop the trees down on your homestead) you will occasionally run into a gopher, bear or snake! You'll have to scare or whack these critters several times before they eventually run off! Not only do they give you loads of coins, food, XP and energy from beating them but you also receive a reward for getting rid of them! |
Gaining energy!
| | |
| --- | --- |
| To gain energy you can do several things. Firstly, you can click on the market button located on the far bottom right corner. Select the energy tab under the market and purchase a light snack! The light snack will cost you 36 food pieces and in return you are given 3 energy points! | |
Next, you can easily enough gain FREE energy by visiting your neighbors homes. ONCE a day, everyday, you can help out on your neighbors homesteads. As a "reward" of sorts, you are given 5 energy, 50 coins and 5 cloth (which will come in handy later in the game, when you craft goods.)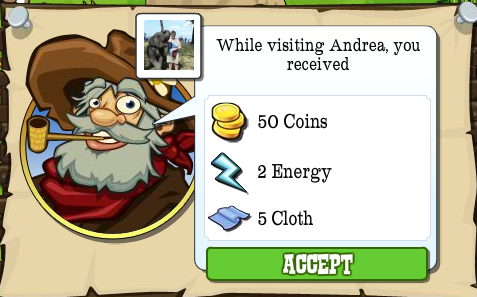 Energy points (which look like blue lightening bolts) pop out from just about everywhere!
I've found them in trees, grasses and crops! One extra way to gain energy is by planting crops. If you're just starting off in the game and have low energy I would recommend planting clover (5 minute crop) and tomatoes (15 minute crop.) When these plants are fully grown you will be given another 5 minutes / 15 minutes to harvest them before they wither! If you are lucky enough to harvest them before they wilt, you will be given coins, energy and food which, as I stated above, can be traded in for a light snack!
Prices in the market
Now, let's say you want to purchase an animal. Click on the animals tab in the market! You will notice that it may ask for two things in order to purchase these animals. Horseshoes – which you gain 1 per each level you complete and coins.

Chopping down trees
When cutting down your giant oak trees and evergreen trees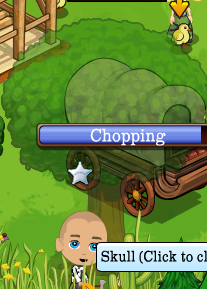 , please remember that they will only grow back (in that exact spot) if you LEAVE the stump in the ground. Otherwise, little saplings will start to grow in another random place around your homestead!
Crafted Goods
These items can be built by clicking on the "Go Inside tab" there you will be given the option to craft items need to complete certain goals.
Cabin:
Cloth + Coins = Clothes
General store:
Ribbon + Cloth = Present
Ribbon + Clothes (made in cabin) = Fancy clothes
Covered Wagon:
Wood + Coins = Plank
wood + cloth = Fire
Barn:
Plank + Tools (given to you when hired by a neighbor) = Sawhorse
Cloth + Sawhorse = Crib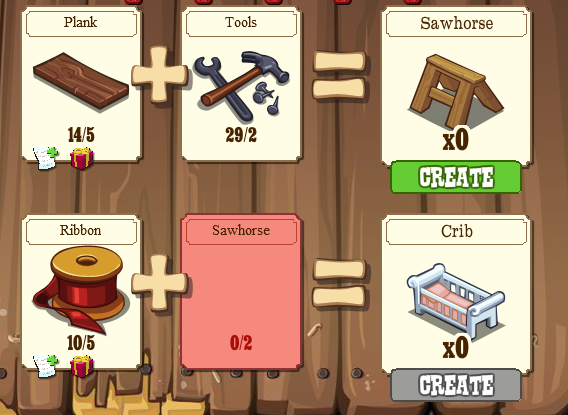 Inn:
Food + Coins = Batter
Fire and Batter = Cake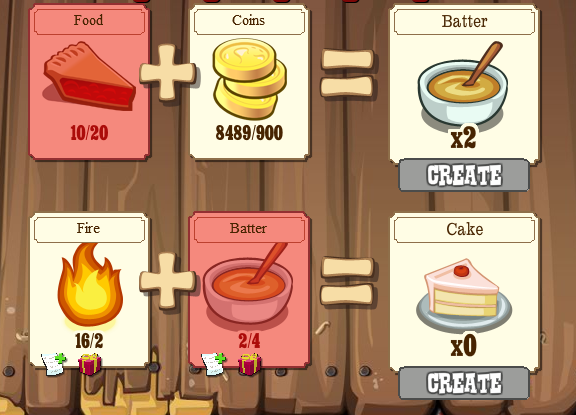 Chicken Coop
This one doesn't give you anything to craft but once a day it will enable you to click on it and feed all your chickens at once.

Each of these items listed above need to be crafted some way or another in order to complete your goals! For instance, you need ribbon (gifted from neighbors) and clothes (made in your cabin) to make fancy clothes, fancy clothing is used for your wedding gowns. Every single one of these is used in a goal of some sort. You CAN craft some before goals since it's easy enough to obtain them.
Visiting Neighbors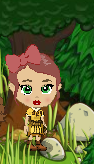 You will notice at any given moment neighbors will start appearing on your farm! If you hover your cursor over them the grasses, trees or animals around them will glow blue! This means that they are wanting to help you with those tasks. If you decide you don't want help with those things, you can simply click on their avatar and click "dismiss." Make sure you choose carefully though, because there is no second chances!
Collecting Energy, Coins, XP and Wood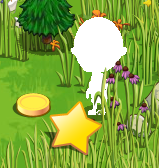 These items will drop out of animals, trees, grasses and crops. These will be added to your count if left alone. But if you click on them you will notice a bonus bar appear (at the top right underneath your game level) this will give you a bonus usually of extra coins.
Weather
On the bottom left of your homestead, there will be a sign saying "(Names) homestead" and beside this will be a weather sign! You can click that little sign to view your frontiers weather. For example . Chilly and Windy. Today you can get more collectibles when clearing land.
Collectibles

As you go about your daily chores you will come across some extra items when picking up your coins, XP and so on. These will gather in your collections.
Step 1: On the bottom right corner, select the backpack icon also known as "MY STUFF."
Step 2: click on "Collections" on the bottom right.
Once you have gathered all the items you need for the collection you can trade them in.(These items you can also place on your Wish list.)







Rewards for collections
Chicken Collection – 3 Energy
Sheep Collection – 3 Cloth, 2 Ribbon
Cow Collection – Unwither Crop Boost, Free Bucket
Goat Collection – 10 XP, Free Cherry Tree
Pig Collection – Fruit Ready Boost, 25 Food.
Ox Collection – Energy bar + 1
Peanut Collection – Energy bar +1
Wheat Collection – Animal Ready boost, 3 cloth
Flax Collection – Unwither Crop boost, 3 Cloth
Cherry Collection – 4 Energy
Peach Collection – Fruit Harvest boost
Apple Collection – Wither Protection boost
Pear Collection – 7 Energy
Clearing Collection – 30 Wood, Free Shovel
Wildflower Collection – 100XP, 1 bouquet
Groundhog Collection – 4 Energy
Oak Tree Collection – 250 coins, Fire
Chicken Coop Collection – 50 Food, 2 Free Eggs
School Collection – 1 Lucky Horseshoe
Cotton Collection – 5 Cloth, 1 Ribbon
Peas Collection – 20 XP, Free Goat
Potato Collection – 6 Energy, Free Crate
Tomato Collection – 300 Coins
Pumpkin Collection – 5 Energy
Pine Tree Collection - 3 Planks, 250 Coins
Wagon Collection – 1 Plank, 1 Fire
Cabin Collection – 2 Clothing, free Rocking Chair
General Store Collection – 2 Tools, 1 Present
Inn Collection – 2000 Coins, 1 Batter
Corn Collection – Wither Protection Boost
Clover Collection – Free Sheep, 10 Food
Family Collection – Energy bar + 2, Free Washboard
Bear Collection – 1 Clothing, Animal Ready Boost
Mule Collection – 10 Energy, 5 Free Hay Bales
Barn Collection – 1 sawhorse, Animal Harvest Boost
Snake Collection – 40 Food, Free Apple Tree
Horse Collection – Free Mule
Crafting Collection – Three Tools
Missing Partner / Child
Sometimes you will find that your Husband/Wife or Child goes missing
Step 1: On the bottom right corner, select the backpack icon also known as "MY STUFF."
Step 2: click on "Family Album" on the Top Right.
If you then click on the person that is missing and click play they should re-appear.